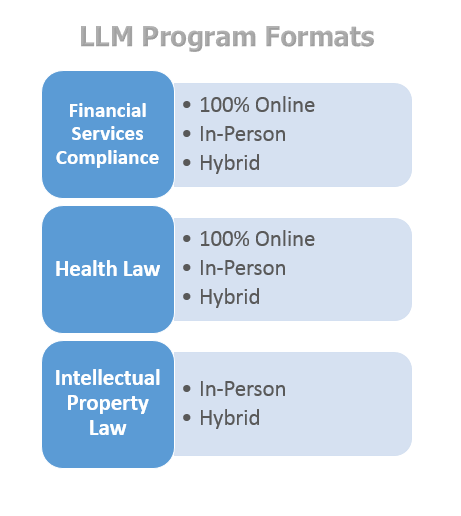 There is a strong, persistent demand for well- trained IP lawyers in law firms, in-house legal departments, and government across a range of industries. Many of these firms, industries and agencies have roots in New Jersey or Manhattan. Seton Hall Law School has a long history of offering a wide array of IP courses, and created an IP concentration for J.D. students in 2000. In 2008, the Law School received acquiescence from the American Bar Association to establish an LL.M. degree in IP law. Seton Hall Law School now provides training beyond the J.D. degree to select students, practitioners and scholars in the growing and increasingly complex IP discipline.
ADMISSION
The Law School seeks to admit highly qualified candidates with a particular interest in IP law, including patent, trademark, copyright and technology law. All candidates must hold a J.D. degree from a law school that is approved by the Section of Legal Education of the American Bar Association or the foreign equivalent from a school of law.
We seek candidates for the LL.M. program from among attorneys already practicing IP law who wish to increase their exposure to and credentials in the field; attorneys who wish to transition from other practice areas to IP; government officials and regulators who specialize or wish to specialize in IP related issues; and law school graduates who are interested in teaching or other academic or research work relating to IP law. It is possible for students to combine courses from the Health and the IP LL.M. curricula.
In making its selections, the LL.M. admissions committee will consider depth of practice experience, quality of law school academic record, demonstrated interest in intellectual property law, and evidenced ability to do superior academic work. In most cases, we highly recommend that a candidate have at least two or three years of practice experience, beyond a judicial clerkship, before commencing the graduate program. The application process is rolling and applications for admission are accepted at any time.
APPLICATION REQUIREMENTS
COURSE OF STUDY
LL.M. candidates must meet the following requirements:
Completion of 24 credit hours of course work;
Completion of a high quality paper, under the supervision of a full-time faculty member (3 credits); and
Maintenance of a GPA of at least 3.0.
LL.M. candidates may pursue one of five sub-specialties:
Patent Law and Policy,
Trademark Law and Policy,
Copyright Law and Policy,
Intellectual Property and Life Science Industry, or
Intellectual Property and Telecommunications Industry
The graduate student's faculty advisor will aid the student in selecting electives appropriate to the student's subspecialty. LL.M. students are expected to complete all course work within six years.
COURSE OFFERINGS
Required Courses | 8 Credits
Number
Name
Credit
Offering

INDL8301

Copyright Law

This course introduces students to the basic concepts and doctrines of copyright law. Topics covered include:

Foundational principles of copyright law

Copyright in special issues, such as software, architecture, and databases

Derivative works, work for hire, and joint authorship

The doctrine of fair use

Copyright issues raised by new technologies that facilitate copying

Digital works and information technologies

3

in-class

INDL8303

Patent Law

This course undertakes an intensive examination of the nature of patents and questions of patent validity and procurement, primarily for those intending to specialize in the patent area in their future practice. It includes: nature of patent property; problems in the procurement of patents including filing date, obtention and maintenance; international practice and problems; patent office practice; problems of validity including novelty, utility and non-obviousness; and transfers of property rights in patents.

3

in-class

INDL8302

Trademark and Unfair Competition

This course explores common law and statutory protection of ideas, trade secrets, and trademarks. Topics covered include:

Acquisition and loss of trademark rights

Registration and licensing

Problems of infringement, dilution, and misappropriation of trademarks

Fair use and Internet use of trademarks and related remedies

3

in-class

Advanced Writing Requirement | 3 Credits
LL.M. students shall satisfy their advanced writing requirement in a 3-credit AWR seminar taught by a full-time faculty member. The full-time faculty member teaching the AWR seminar shall serve as the LL.M. student's supervisor. The final paper should be of Law Review publishable quality, and at least 25 pages in length.
Number
Name
Credit
Offering

INDL9314

Advanced Entertainment Law

This seminar involves an in-depth look at certain areas of the entertainment and media industry introduced in the survey course such as television, music licensing and publishing as well as an in-depth look at areas not dealt with in the survey course, such as independent film production, news gathering, advertising, video games, character licensing, and gambling. Assigned reading, class discussion and presentations by various specialists will be used to explore current legal issues, legislation and litigation.

3

in-class

INDL7322

Art Law

In particular, it would examine artists' rights, such as copyright, moral rights, resale rights and First Amendment rights, as well as the law governing the artist-dealer relationship, auctions and private sales. The course would also discuss the law and practice governing artists' foundations, estates and museums. It would then examine questions of authenticity in art, and the (sometimes limited) ability of law to aid in resolving disputes about such issues. A significant portion of the class would be spent on the law governing reparations for the wartime plunder and theft of art, as well as on the international trade of art and the national and international law of cultural property (antiquities).

2

in-class

INDL9331

Current Topics in Internet Law

This research seminar will focus on specific areas based upon individual student research topics, which may include any aspect of Internet Law, including but not limited to NSA Surveillance, Data Mining, Computer Fraud & Abuse Act, Consumer Contracts, BitCoin and other Virtual Currencies, Filtering & Site Blocking, ISP Liability for User Generated Content, Broadcast/Cable/Satellite/Internet Content Systems, and Search & Seizure of Internet Content. Classes will include overview of specific topics followed by problems and role play. 

3

in-class

INDL7550

Cybersecurity and Privacy I: Law & Policy

This course provides a broad overview of key issues at the intersection of cybersecurity and privacy. Topics covered include:

Security practices, standards, and insurance

Data breaches, incident response, and corporate governance considerations

Consumer protection law and enforcement actions

The Computer Fraud and Abuse Act (aka the "anti-hacking" statute)

Law enforcement surveillance

Emerging technological paradigms and legislative responses

2

online

INDL7309

Cybersecurity Law

This course will examine the developing field of "Cybersecurity" law.  "Cybersecurity" refers to technological, social, and legal controls implemented by government and private entities to secure electronic communications and data networks from manipulation, theft and attack by enemies of the state, terrorists, hackers, competitors, and other adversaries.  The course will examine these issues from the perspectives of economic regulatory policy, unfair competition and trade secret law, criminal law, constitutional law and civil liberties law, and public international law.

3

in-class

INDL8340

Cybersecurity: Computer Crimes and Personal Security

This module evaluates the nature of cyber crime and the legal framework for fighting cyber crime. We will learn about common modes of cyber attack, the use of mass crime tools such as "botnets," and the role of organized crime in cyberspace. We will study the U.S. Computer Fraud and Abuse Act and related U.S. and international laws that apply to computer crimes. We will also consider threats to personal safety arising out of cyberspace, including bullying, stalking, harassment, and child pornography, and we will study the unique legal challenges involved in crafting statutes to address such conduct without unduly impinging on rights of free speech and free association.

1

in-class

INDL9312

Entertainment Contract Negotiation and Drafting

In this seminar students develop contract negotiation and contract drafting skills through mock negotiations and contract drafting. The class will include lecture, material and practical experience, negotiation deal points, and then drafting the final contract. Contracts will be negotiated in the motion picture, theatrical, music, television and publishing fields.

2

in-class

INDL7305

Entertainment Law

This course is a general survey and analysis of substantive areas of law relating to the production, distribution and exhibition of products and services in the entertainment and media industries. Areas surveyed include music, film, television, cable, publishing, legitimate stage, the online entertainment industry and the regulation of attorneys, agents and managers. It treats the creation, ownership and regulation of entertainment speech with emphasis on the first amendment, defamation, the right of privacy, the right of publicity, copyright, trademark, unfair competition, the law of ideas, moral rights, theories of credit, contract law and sources of regulation of professionals who work in the entertainment and media industry.

3

in-class

INDL9328

Foundations of Intellectual Property Law and Policy

This seminar examines the foundations and policies underlying intellectual property law.  It considers how and why patent, trademark, and copyright law are similar to and different from one another, the reasons for protecting exclusive rights to intangible creations, and when the public should have unrestricted access to inventions, artistic creations, and source-indicating symbols.  The focus is on completing an AWR paper on any intellectual property topic related to patent, trademark, or copyright.

3

in-class

INDL7312

Genetics: Law, Policy and Bioethics

Rapid advances in genetics are having extensive effects on our life both within and outside the medical arena. This course will examine the legal transformations taking place in a broad range of legal fields to accommodate these technological innovations. Among the topics to be examined in this course are: (1) genetic testing in the clinical scenario, such as duty to warn issues; (2) Privacy and discrimination related to collection of information by insurers and employers and by the government; (3) Commercialization of genetic research, focusing on gene patents; and (4) Use of genetic information in the courtroom.

2

in-class

INDL7304

Information Privacy Law

Information technology has transformed our everyday lives, but at the same time, it has profound effects on our personal privacy. A vast amount of our personal information is digitized. This includes details about our health and genes, purchasing and reading habits, chats with friends and even our physical location. Government and private companies can access, collect, store, transfer to other parties, and sometimes misuse our personal information.  U.S. law has grappled to regulate privacy through a growing amalgamation of judicial decision-making, statutes and regulations. This course will examine the regulation of privacy in the United States. But since information is not confined by national boundaries, it will also examine global privacy regulation (particularly in the European Union) and its impact on privacy regulation in the United States.

2

in-class

INDL7301

Intellectual Property

This course will survey the basic doctrines of intellectual property ("IP") law, including patent, trademark, and copyright law.  We will also briefly look at state law doctrines focusing on trade secrets.  The course is intended both for those who intend to practice in an IP field and for those with a more general interest in the topic.  Given the interrelations and analogies among IP rights, any specialized IP practitioner should have a working knowledge of IP areas outside his or her area of expertise.  Since most lawyers' business models depend on the commodification of information, any practitioner would benefit from an understanding of this field.

3

in-class

INDL8317

Intellectual Property Licensing

The seminar will provide a comprehensive study of all aspects of Intellectual Property licensing and related issues. Students will analyze and draft various trademark, copyright, character, right of publicity/privacy, merchandizing, music, software, confidentiality, patent/technology, and new media licenses, and develop related negotiation skills and litigation strategies. The focus will be practical and will show how value can be unleashed in Intellectual Property Assets through licensing.

2

in-class

INDL7330

Internet Law and Governance Foundations

Internet Law and Governance Foundations. This is the required foundational course module. It asks the questions "what is cyberspace" and "what does it mean to govern in cyberspace?" We will examine questions relating to jurisdiction, enforcement, democratic control, speech, and commerce from the early days of the Internet to the present. This study raises the basic questions addressed throughout all four modules: what is the relationship between "liberty" and "security" in cyberspace?

1

INDL8312

Law in the Music Industry

This course focuses on the daily legal issues facing attorneys in the music industry. It will consider the various legal relationships within a musical group and between the artist and his various representatives. It will then discuss the most heavily negotiated agreements in the music industry, beginning with demonstration, sample and producer agreements. The course will next explore legal pitfalls of production company agreements, and will then dissect various provisions of both recording and music publishing agreements. The course will then consider music industry unions and the American Federation of Musicians and the American Federation of Television and Radio Artists impact of the artist and the record company. Finally, the course will discuss the legal issues facing music industry attorneys in the 21st century, with specific focus on digital transmission of music, down-loading of music over the internet and alternative methods of music delivery.

2

in-class

INDL9310

Patent Application, Preparation and Prosecution

This seminar develops the writing and analytical skills required to draft applications for United States patents. Patent claim drafting skills are not undertaken in this course. Patent prosecution techniques, however, including evaluation of Patent and Trademark Office Official Actions and preparation of responses to these Official Actions are studied. There also is practice in drafting appellate briefs for submission to the Board of Patent Appeals and Interferences.

2

in-class

INDL9305

Patent Claim Drafting

This drafting seminar will focus on the "claim" or "claims" appended to a patent specification. The claim defines the scope of the grant, or the technical extent of the exclusive privilege the patent accords to its owner. Claim drafting assignments will be distributed to the students before each class. Each student's work will be reviewed on an individual basis, with rewriting and revision as needed.

2

in-class

INDL7308

Sports Law

An exploration of the impact of the legal system on the sports industry in America, particularly the sources of legal authority, development and recognition of property rights in sports and the substantive principles of contract law. The course examines the legal relationships among athletes, teams, leagues, governing bodies, sports facilities, licensees, agents and fans, as threaded together through contract, property, labor, intellectual property, constitutional, and tort law. We will also study the legal implications of the financial and business platforms relating to the sports industry.

INDL7308

Sports Law (Online)

This course explores the impact of the legal system on the sports industry in America, particularly the sources of legal authority, development and recognition of property rights in sports and the substantive principles of contract law. The focus is on the legal relationships among athletes, teams, leagues, governing bodies, sports facilities, licensees, agents and fans, as threaded together through contract, property, labor, intellectual property, constitutional, and tort law. We will also study the legal implications of the financial and business platforms relating to the sports industry.

INDL9322

Trademark Registration

Federal registration provides important benefits to trademark owners, including corporations. Trademarks are among a company's most valuable assets. Registration work is a staple of many law firm and in-house intellectual property practices. This class will cover the basics of domestic and international trademark registration practice, from selection of a mark and legal screening/clearance through opposition proceedings, registration, and beyond. Hands on, practical use of the USPTO website for filings and research will be explored. Assignments will include hands on drafting of opinion letters, registration papers, and pleadings drawn from real-world examples.

2

in-class

Related Courses
* Students may take up to 2 elective courses from another concentration area.
Number
Name
Credit
Offering

PUBG7801

Administrative Law

This course studies the theory of administrative actions; administrative process; agency organization; determination and promulgation of the administrative regulations; right to notice and hearing; enforcement; judicial review; standing; and the Administrative Procedure Act.

3

in-class

PUBG8801

Antitrust

This course studies legal protection of the competitive system under the Sherman Act, Clayton Act, Federal Trade Commission Act and related legislation. It considers problems relating to monopoly power; "horizontal" restraints on competition such as price fixing and concerted refusals to deal; "vertical" restraints such as resale price maintenance, tying and exclusive dealing arrangements; and limitations on permissible mergers and joint ventures. It explores economic as well as legal implications of federal government regulation of corporations.

3

in-class

HLTH9529

Biotechnology and the Law

This course examines a variety of legal, policy, scientific, social, and ethical issues in the realm of biotechnology. Topics covered include:

Foundational technologies, such as recombinant DNA technology

Current applications, including nanobiotechnology and synthetic biology

Human subjects research and institutional review of clinical trials

Regulatory oversight by federal agencies

Academic-industry relationships

Data privacy and security issues

Protection of intellectual property

2

online

HLTH7685

Clinical Research and the Law: Compliance Issues for Research Sponsors

This course examines the responsibilities of life science companies and other entities responsible for the initiation, management, and/or financing of clinical trials in the United States, the European Union, and elsewhere in the world. Topics covered include good clinical practice (GCP) compliance, clinical trial agreements, clinical trial registration and results reporting, access to clinical trial data, managing conflicts of interest, reimbursement issues, and the implications of anti-bribery laws and U.S. fraud and abuse laws for clinical research.

2

online

HLTH7680

Clinical Research and the Law: Ethical and Regulatory Issues in Designing Clinical Trials

This course immerses students in the laws, regulations, and ethical guidelines applicable to designing clinical research in the United States, the European Union, and elsewhere in the world. Topics covered include an overview of the regulatory framework in the US, the EU, and other regions; the role of international ethical guidelines; ethical and regulatory considerations in choosing a study methodology; informed consent; confidentiality and data protection; the inclusion of women and minorities in clinical research; pediatric research; and post-trial obligations.

2

online

CORP7180

EU Data Protection and Privacy Law: The GDPR

This course introduces students to the legal regime governing information privacy, data protection, and data security in the European Union. Topics covered include data protection and privacy in the European Court of Human Rights, the Data Protection Directive and the General Data Protection Regulation (GDPR), data protection supervisory authorities and international data transfers, the "right to be forgotten," and cybersecurity in Europe.

2

online

CORP7160

Global Corruption: Regulation, Compliance, and Enforcement

This course introduces students to the theory and practice of global anti-corruption compliance. Topics covered include the definition, identification and measurement of corruption; the OECD Convention on Combatting Bribery of Foreign Public Officials; the U.S. Foreign Corrupt Practices Act; the UK Bribery Act; anti-corruption laws in other countries; investigation, enforcement and resolution of corruption activities; jurisdiction, corporate liability and individual responsibility; and anti-corruption compliance programs and international organizational responses.

2

online

HLTH7518

Health Privacy

As our health information is being digitized and stored in electronic records, this transformation poses novel challenges for the laws designed to protect the privacy and security of our personal health information. This class will provide students with a substantive overview and analysis of the laws that directly govern or have an impact on health information privacy and security in the United States. The main focus of this course will be the privacy and security provisions of the Health Insurance Portability and Accountability Act of 1996 (HIPAA), the foundation for federal protections of health information. Additionally, the course will examine the interplay between HIPAA and other federal and state health privacy laws and the application and enforcement of those laws in a variety of health care settings.

2/3

in-class

HLTH7504

HIPAA Privacy and Security

This course explores the federal regulatory scheme designed to protect the privacy and security of health information. Topics covered include:

Entities and information to which HIPAA applies

When consent is required for the use and disclosure of health information

Types of health information requiring heightened protection

Use of health information for research and marketing

Security measures required to protect digitized health information

Individuals' right to access their health information

Business associate agreements

HIPAA compliance and enforcement

2

online

ACADEMIC STANDING
LL.M. students must remain in good academic standing throughout the program. View the full academic policy.
EXAM PROCEDURES
Each student is given an exam number. In addition to using his or her exam number, each student should indicate on the front of his/her exam that he/she is an LL.M. candidate. This allows professors to exclude graduate students from the mandatory J.D. grading curve. No other reference to identity should be indicated on the exam. Every effort to maintain a student's anonymity will be made; however, anonymity may sometimes be compromised due to the small number of graduate students enrolled in a given class.
For additional information, please contact
Enrollment Services
[email protected]
973-642-8747
or request information online.