Veterans Education Benefits for Law School   
Seton Hall Law is thankful to our veterans and servicemembers and is committed to helping you and your families succeed.  The Office of Financial Aid/Enrollment Services certifies eligible veterans and their dependents for educational benefit payments.
Getting Started
The veteran and/or their dependents must first complete an Application for Benefits on the Veterans Administration (VA) portal.  Apply as soon as possible to avoid a delay in receiving benefits. The VA will send the student a Certificate of Eligibility or Proof of Benefits, which should be submitted to the Office of Financial of Aid/Enrollment Services. To find out more about available benefits to military personnel, contact the Law School's Certifying Veteran Officer, Karen Sokol, at [email protected].
SUBMIT YOUR Veteran Enrollment Certification Request.  We do not require that you submit a request for certification each semester, however, you must notify us if there is a semester for which you do not wish to use your benefits.  For example, some veterans do not wish to use their benefits for the summer semester.  Please contact us if you have questions on this.
Compliance with 38 USC3679 (e)
Background: Section 103 of Public Law (PL) 115-407, 'Veterans Benefits and Transition Act of 2018,' amends Title 38 US Code 3679 by adding a new subsection (e) that requires disapproval of courses of education, beginning August 1, 2019, at any educational institution that does not have a policy in place that will allow an individual to attend or participate in a course of education, pending VA payment, providing the individual submits a certificate of eligibility for entitlement to educational assistance under Chapter 31 or 33.
Pending Payment Compliance: In accordance with Title 38 US Code 3679 subsection(e) of the Veterans Benefits and Transition Act of 2018, Seton Hall Law will not impose a penalty on any student using veterans educational benefits under Chapter 31 (Veteran Readiness and Employment), or Chapter 33 (Post 9/11 GI Bill®) because of the individual's inability to meet his or her financial obligations to the institution due to the delayed disbursement of funding from the Department of Veterans Affairs (VA). Seton Hall Law will not prevent the student from attending or participating in the course of education during periods in which there is a delayed disbursement; assess late payment fees if the financial obligation is fully funded by the Department of Veterans Affairs (VA); require the student to secure alternative or additional funding for delayed disbursements; or deny the student access to any resources (access to classes, libraries, or other institutional facilities) available to other students who have satisfied their tuition and fee bills to the institution.
However, to qualify for this provision, such students may be required to produce the VA Certificate of Eligibility (COE) by the first day of class; provide a written request to be certified; and/or provide additional information needed to properly certify the enrollment as described in other institutional policies.
GI Bill® is a registered trademark of the U.S. Department of Veterans Affairs (VA).
Post 9/11 GI Bill®
If you have at least 90 days of aggregate active duty service after Sept. 10, 2001, and are still on active duty, or if you are an honorably discharged Veteran or were discharged with a service-connected disability after 30 days, you may be eligible for this VA-administered program.
Yellow Ribbon Program
The Yellow Ribbon Program provides additional amounts towards the remaining balance of tuition and fees not covered by the annual maximum of the Post 9/11 GI Bill®. You must be eligible at the maximum rate (100%) for the GI Bill® as determined by the VA.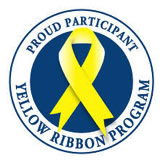 The Yellow Ribbon amount is split evenly between the Department of Veterans Affairs and Seton Hall Law. There are an unlimited amounts of slots for the Yellow Ribbon Program at Seton Hall Law.

Not sure which veterans benefits to use?
Visit the GI Bill® website for additional information that will help you decide.

Financial Aid
Many veteran students believe they are not eligible for financial aid if they are claiming their GI Bill® benefits. The fact is, a large percentage of all veterans are eligible for some form of financial aid. The average veteran may still be eligible for a Federal Direct Student Loan. Visit the law school's financial aid website for more information.

Which programs qualify?  All of the degree programs (JD, MSJ, LLM) at Seton Hall Law are eligible for veterans benefits, as well as our Graduate Certificate Programs. 

Personalized Attention
We have a team of academic advising and admissions staff who work directly with students. Our team of professionals understands your needs and is ready to assist you in achieving your personal and professional goals, whether you are on campus or on base.
Military-Affiliated Task Force
The Task Force provides thought leadership and guidance on the following issues: Recruitment; Retention; Financial aid and VA benefits; Academic and career counseling; health and wellness support; Education about barriers within the military, and pathways to making the military a place of equity, safety, and opportunity for all; Engagement activities for student Veterans, Military-affiliated students, and their families; Law School events to celebrate service such as Veterans Day and Memorial Day. The Task Force also collaborates where appropriate with Seton Hall Law's Health Justice clinic to facilitate access to legal services for veterans.
Military History at SHU
Seton Hall University has a long and illustrious military history and is an ROTC school (South Orange campus). Since 1893, we have been training our students in the military sciences. Our alums have distinguished themselves in the military and civilian sectors. For over 100 year, Seton Hall's Pirate Battalion Alumni have given their service. Many Seton Hall alums are currently serving in the armed forces. Seton Hall alumni are active and proud in the military and the private sector. There are 90,000 Seton Hall graduates across the globe. Put this powerful network to work for you.

Veterans Association
The Law School has a Student Veterans Association that is recognized by the Student Bar Association.

Work Study Jobs
Work study positions may be available on a case by case basis.

VA Regional Office
P.O. Box 4616, Buffalo, NY 14240-4616.
The United States Department of Veterans Affairs
Phone: 1-888-442-4551
 
GI Bill® is a registered trademark of the U.S. Department of Veterans Affairs (VA). More information about education benefits offered by VA is available at the Official U.S. Government Web site here.