#SHLWORKS: Gaining Legal Skills through Summer Positions
Summer jobs provide opportunities to build skills, extend professional networks, and develop strong resumes for future career success
---
#SHLWorks highlights Seton Hall Law students and the opportunities they pursue during the summer to gain legal experience in a variety of fields.
Jillian Swogier '17
Hometown: Wheatfield, New York
Undergrad: Seton Hall University
Summer position: Summer Associate, Reed Smith, Princeton 
I am learning a lot and am having a great experience in my summer associate position. I have been involved in a diverse portfolio of work from various practice groups. By my third week I had already learned so much more than I could've hoped—it's been a wonderful experience.
I interviewed at a lot of firms during the On-Campus Interviewing (OCI) recruiting in the fall and through sending resumes and applying online. During the recruiting process I was able to learn what firm cultures, and work, suited me and my career goals.
Before classes start in August, I am looking forward to spending time with my family (and two Yorkies) at our lake house!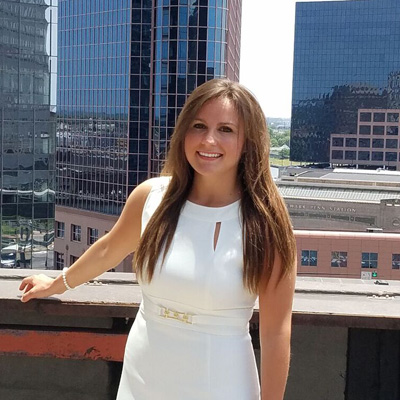 Dominique Kilmartin '18
Undergrad: Villanova University
Hometown: Englewood Cliffs, New Jersey
Summer position: Legal Intern,Panasonic Corporation of North America, Newark
In my first few weeks at Panasonic, I was fortunate enough to work with and learn from some of the most experienced legal professionals. Through hands-on assignments and research projects, I am gaining experience in numerous areas of corporate law, with a particular emphasis on corporate compliance.  Getting an inside view of the legal issues facing a multinational corporation has been an invaluable educational experience.
I first learned about the position at Panasonic through Seton Hall's expansive "On Campus Interviewing" program. After telling the Office of Career Services about my summer goals, they suggested that I apply for the position.
My summer plans: I hope to spend some time at the Jersey Shore with family and friends.
I chose this photo because this area is right between Seton Hall Law and Panasonic's Headquarters. Now that I also work in Newark, I have learned so much about the surrounding area and all the opportunities that Newark has to offer!
Ameya Pendse '19
Hometown: Markham, Ontario, Canada
Undergrad: McGill University
Summer position: Legal Intern at the Office of the New York State Attorney General: Real Estate Finance Bureau
In this position, I have the opportunity to learn how different real estate securities work, and how to review different types of offering plans & amendments to ensure that New York developers are making the necessary disclosures (as required by law) when it comes to their development projects.
I obtained this opportunity by applying directly to the position through the Attorney General's website. However, Erin Scherzer from the Office of Career Services, and my mentor, Professor Paula Franzese, supported me the entire way.
My summer plans: I am trying every food cart in New York City. I am also watching a lot Netflix.
This photo is taken in front of 120 Broadway in Manhattan, where the Executive Office of the New York State Attorney General is located.
Ashley Fletcher '18
Hometown: New York City
Undergrad: Emory University
Summer position: Legal and Compliance Intern, Regeneron Pharmaceuticals, Tarrytown, New York
In this position, I have gained further exposure to the various roles of in-house counsel. This position is rotational, and I will be working in the Compliance, Employment law, and Contracts practice groups.
My summer plans: Weekend trips, spending time with friends and family, and doing leisure reading from a reading list that I recently created.
Danielle Craft '18
Hometown: Elmwood Park, New Jersey
Undergrad: Fordham University
Summer position: Judicial Intern for Chief Justice Rabner, New Jersey Supreme Court
I am excited to immerse myself in the challenging legal issues that face our state's highest court, and engage in the multi-faceted process in which justice is achieved, from precedent to public policy. I also look forward to applying and expanding my research, writing and analytical skills.
My sincerest thanks extend to Deans Boozang, Werbel and Forrest, as well as the entire team in the Office of Career Services, for helping me secure my summer position. They work around the clock to ensure that students succeed in obtaining valuable opportunities for their first-year internships and beyond.
My summer plans: Enjoy the weather (hopefully a few day trips to the beach), and spend quality time with friends and family before my 2L year begins.