Generations of a Seton Hall Law Family
---
On May 19, 1991 Susan Iovine '91 gave birth to her first son. Shortly thereafter, she was studying for her Professional Responsibility final from her hospital bed. And just 11 days after Luke Iovine, IV was born, she walked across the stage, newborn in her arms, to graduate from Seton Hall Law.
Fast forward 27 years later to May 24, 2018, and Susan was once again on stage at a Seton Hall Law's graduation, this time with Luke's father, Luke Iovine, III '90 to hand their son, Luke IV his own Seton Hall Law diploma.
Things have certainly come full circle for the Iovine family, and the tradition continues as Frank, the second of their four sons, will be joining Seton Hall Law in August 2018 as part of the class of 2021. 
Luke's birth shook things up a bit -- Susan postponed taking the bar exam until February so she could focus on her family. "I had just graduated, was at home with a newborn, and we had just moved," explains Susan." I studied for the bar by listening to cassette tapes!" But she quickly realized it was all going to fall into place. Susan, who currently works for the Montclair Board of Education, stresses that "the path may not be what I thought, but I learned how to navigate it. It's an important message for younger students to remember today."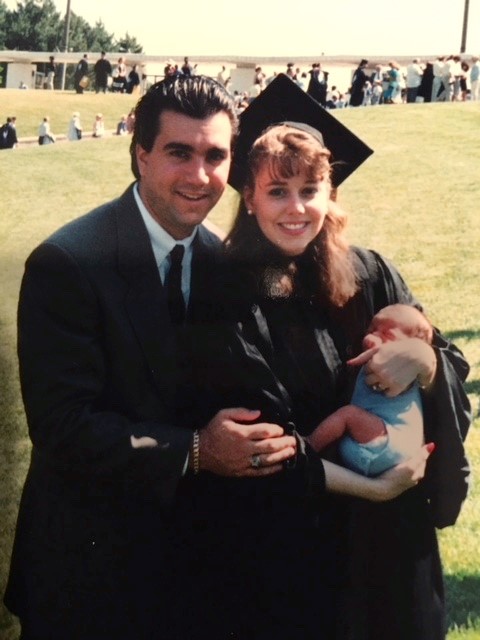 Luke's dad is currently partner at Paul Hastings working in mergers and acquisitions and joint ventures. From his time as an undergrad at Bucknell University, he admired confidence and the ability to analyze situations critically. "I wanted that skill set in order to be effective in my career," says Luke, III. "That was the driving force behind going to law school."
Proud of his son, he has seen him develop "substantive abilities and communication skills, and his interests in legal and social issues have grown so much. Seton Hall Law equipped him well."
Luke, IV will be studying to take the bar exam this summer and clerking for Judge Deborah Gramiccioni in Ocean County in the Family Division. He is confident that the skills he has acquired at Seton Hall Law will be applicable to whatever career path he follows.
While Luke, IV has many fond memories of his time at the Law School, the fondest are the friendships he has made.
"My Seton Hall Law education has been outstanding, but it is the friends I made that got me through it and the journey along the way," he reminisces. "Ordering late night food and cramming for our tax exams, but not necessarily the grade I received on that tax exam – that is what I will remember."
As they have reconnected with the Law School in recent years through their son, both Susan and Luke, III agreed, "The Seton Hall Law community is dynamic, robust, and successful. Our family made a series of great choices."