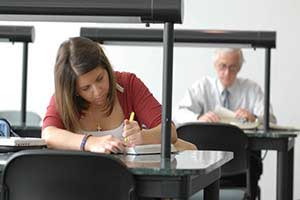 Seton Hall Law offers an online graduate degree program designed specifically for the professional who wants to earn an advanced degree and would benefit by learning more in a specific area of law. The online format offers flexibility for individuals who have commitments that make it difficult for them to attend classes on campus.
Pursuing your graduate degree online allows for some flexibility; however, the courses will be just as challenging as if you took them at the Seton Hall Law campus. The material is the same, the instructor is the same — the only difference is in the delivery of the material.
Our Health Law & Policy Program is consistently ranked among the top 10 in the nation by U.S. News & World Report's Graduate School Guide. Seton Hall Law has specialized in health, pharmaceutical, and intellectual property law for nearly two decades.
If you work in a position or an industry in which you would benefit by knowing more about the law, the Master of Legal Studies may be an ideal choice for an advanced degree. Designed for students who are not going to be attorneys, an online Master's degree in law can help you prepare to work in these industries:
Healthcare
Financial Services
Pharmaceuticals
Information technology
Telecommunications
Biotechnology
Learn more about the concentration areas and benefits of the online MLS program.
The Master of Laws degree is designed to allow attorneys to further explore the law in one of three areas:
Health Law — This program provides the opportunity to broadly explore health law and policy or to focus more narrowly on courses designed for lawyers planning to represent providers, payors, regulators, and patients; or pharmaceutical, medical device, or biotechnology companies.
Intellectual Property — This program offers the opportunity to broadly explore intellectual property (IP) or to focus more narrowly on particular interests in IP, including patent, trademark, copyright, and technology law.
Financial Services Compliance — This program offers the opportunity to broadly explore financial services or to focus more narrowly on particular courses, including securities regulation and compliance, taxation, and data protection. 
To apply for the LLM program, you must have graduated from an American Bar Association accredited law school or have a functionally equivalent law degree from a foreign institution.
Learn more about the LLM program.