Veterans Education Benefits for Law School   
Seton Hall Law is thankful to our veterans and servicemembers and is committed to helping you and your families succeed.  The Office of Financial Aid/Enrollment Services certifies eligible veterans and their dependents for educational benefit payments.
Getting Started
The veteran and/or their dependents must first complete an Application for Benefits on the Veterans Administration (VA) portal.  Apply as soon as possible to avoid a delay in receiving benefits. The VA will send the student a Certificate of Eligibility or Proof of Benefits, which should be submitted to the Office of Financial of Aid/Enrollment Services. To find out more about available benefits to military personnel, contact the Law School's Certifying Veteran Officer, Karen Sokol, at [email protected]
SUBMIT YOUR Veteran Enrollment Certification Request
We do not require that you submit a request for certification each semester, however, you must notify us if there is a semester for which you do not wish to use your benefits.  For example, some veterans do not wish to use their benefits for the summer semester.  You may also Check Your Current Post 9/11 GI Bill Enrollment Status here.  Please contact us if you have questions on this.
Post 9/11 GI Bill
If you have at least 90 days of aggregate active duty service after Sept. 10, 2001, and are still on active duty, or if you are an honorably discharged Veteran or were discharged with a service-connected disability after 30 days, you may be eligible for this VA-administered program.
Yellow Ribbon Program
The Yellow Ribbon Program provides additional amounts towards the remaining balance of tuition and fees not covered by the annual maximum of the Post 9/11 GI Bill. You must be eligible at the maximum rate (100%) for the GI Bill® as determined by the VA.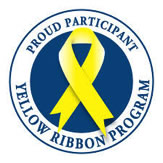 The Yellow Ribbon amount is split evenly between the Department of Veterans Affairs and Seton Hall Law, and has an annual maximum of $30,000. There are an unlimited amounts of slots for the Yellow Ribbon Program at Seton Hall Law.

Not sure which veterans benefits to use?
Visit the GI Bill website for additional information that will help you decide.

Financial Aid
Many veteran students believe they are not eligible for financial aid if they are claiming their GI Bill benefits. The fact is, a large percentage of all veterans are eligible for some form of financial aid. The average veteran may still be eligible for a Federal Direct Student Loan. Visit the law school's financial aid website for more information.

Which programs qualify?  All of the degree programs (JD, MSJ, LLM) at Seton Hall Law are eligible for veterans benefits, as well as our Graduate Certificate Programs. 

Personalized Attention
We have a team of academic advising and admissions staff who work directly with students. Our team of professionals understands your needs and is ready to assist you in achieving your personal and professional goals, whether you are on campus or on base.

Military History at SHU
Seton Hall University has a long and illustrious military history and is an ROTC school (South Orange campus). Since 1893, we have been training our students in the military sciences. Our alums have distinguished themselves in the military and civilian sectors. For over 100 year, Seton Hall's Pirate Battalion Alumni have given their service. Many Seton Hall alums are currently serving in the armed forces. Seton Hall alumni are active and proud in the military and the private sector. There are 90,000 Seton Hall graduates across the globe. Put this powerful network to work for you.

Veterans Association
The Law School has a Student Veterans Association that is recognized by the Student Bar Association.

Work Study Jobs
Work study positions may be available on a case by case basis.

VA Regional Office
P.O. Box 4616, Buffalo, NY 14240-4616.
The United States Department of Veterans Affairs
Phone: 1-888-442-4551