Seton Hall Law Alumnus Steven Llanes Selected for Presidential Leadership Scholars Program
---
Seton Hall Law alumnus Steven Llanes '13 was one of 59 individuals selected nationally for the 2018 Presidential Leadership Scholars (PLS) program, a unique opportunity for a group of high-potential leaders from across the United States to collaborate and learn about leadership through studying the presidencies of George W. Bush, William J. Clinton, George H.W. Bush, and Lyndon B. Johnson.
The scholars, comprised of military veterans, educators, doctors, public servants, lawyers, and corporate professionals (among other professions), traveled to each presidential center (Bush 41, Bush 43, Clinton, and Johnson) from February through July 2018.
"The PLS program was an incredible experience, and I am so thankful to have been a part of it alongside such an inspiring group of leaders," says Llanes. "I look forward to applying the lessons learned to both my professional and civic endeavors at home in New Jersey."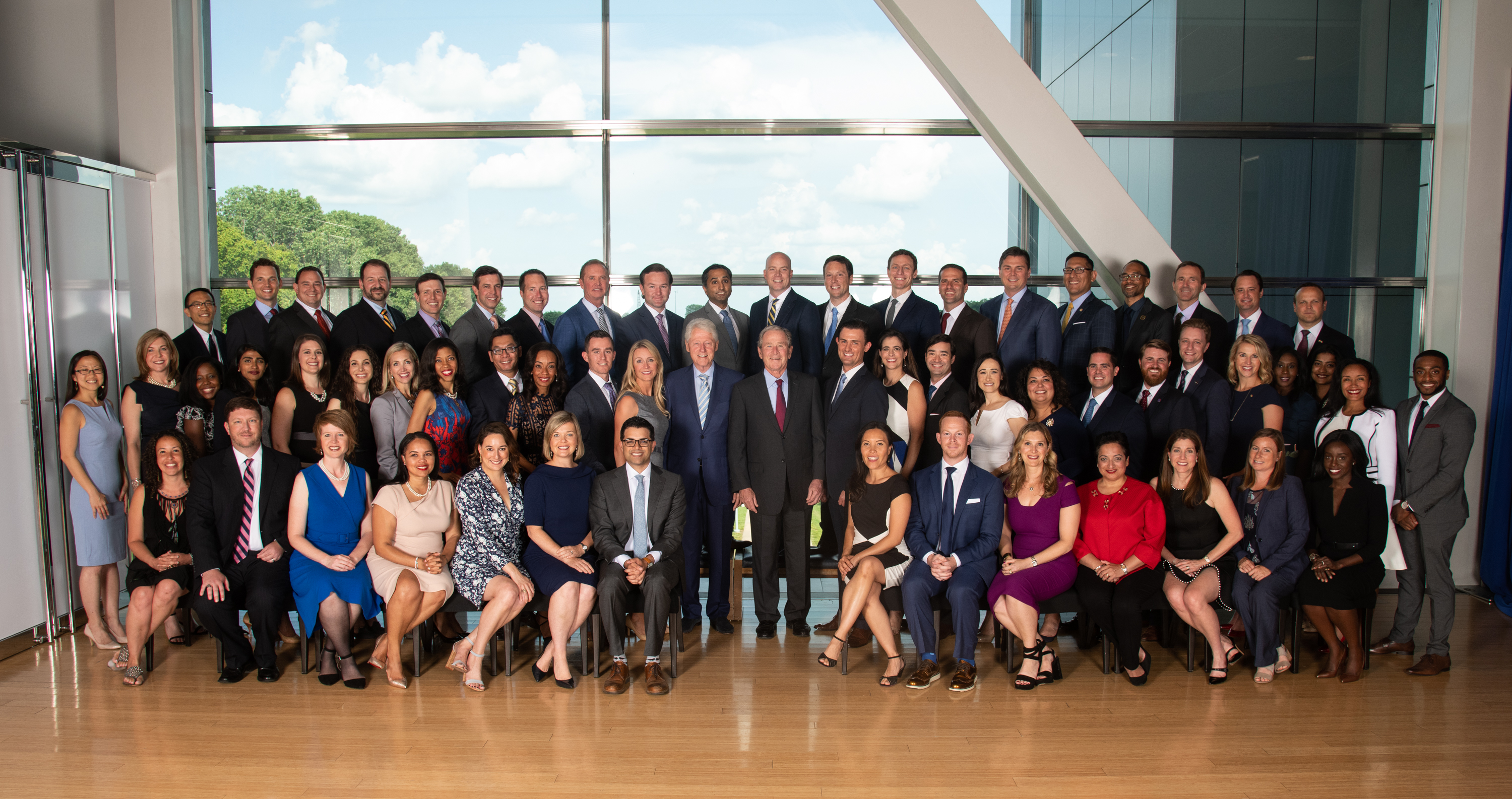 (Steven pictured second row, eighth from right)
Llanes brought a strong background to the PLS program, due in part to his current work as a lawyer with Lowenstein Sandler LLP, where he focuses on litigation and government and corporate investigations, among other areas. Prior to law school, he received his M.A. in public policy from Harvard University and B.A. in communications and political science from Saint Peter's University (where he is currently a member of the Board of Regents). He then served in the U.S. Department of Homeland Security as a White House Presidential Appointee, coordinating the U.S.-UK Joint Contact Group. Afterward, he held a manager position in the private sector at KPMG.  
Having experienced a multifaceted career path, Llanes decided that becoming a lawyer was how he could have the most impact and do the most good at home in New Jersey.
"There was no better fit for me than Seton Hall Law," says Llanes, who resides in Montclair with his wife and two children.
Of his current work, Llanes most enjoys the opportunity to solve complex issues, and his firm's commitment to clients and community—all of which mesh with key areas of the PLS curriculum—Vision and Communication, Decision Making, Persuasion and Influence, and Strategic Partnerships.  
At his recent PLS graduation, Llanes was chosen to represent his class by asking President George W. Bush a question regarding opportunities for immigrants. This was a special moment for Llanes. The son of Cuban exiles and a first-generation American, Llanes is a community leader who has focused his efforts on civic education and engagement within New Jersey.
Both CNN and Fox News aired clips (and related stories) of Llanes' exchange with President Bush, during which President Bush expressed his appreciation for Llanes.