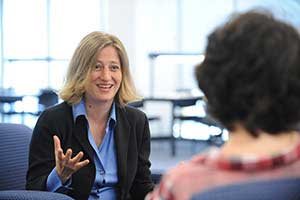 Seton Hall Law offers an intellectually rigorous yet collegial environment that promotes high academic standards while fostering strong relationships between students and faculty. Our faculty is comprised of dynamic, nationally respected and highly accessible mentors who focus on ensuring each student's success.
Seton Hall Law's online learning community is ideal for students who are unable to attend on-site classes due to demanding schedules. Through our online programs you will be able to create your own schedule and complete your coursework wherever it is most convenient for you. As a student in our law programs online, you will study under the same instructors and benefit from the same challenging coursework as you would by attending classes on campus.
For more information about our online law programs, or to speak with a Seton Hall Law representative about which programs would be the best fit for you in light of your experience and interests, please call us at 973-642-8482, email us at [email protected] or contact us by filling out the form to the right on this page. We can answer any questions you have and help you create a plan that works for you.